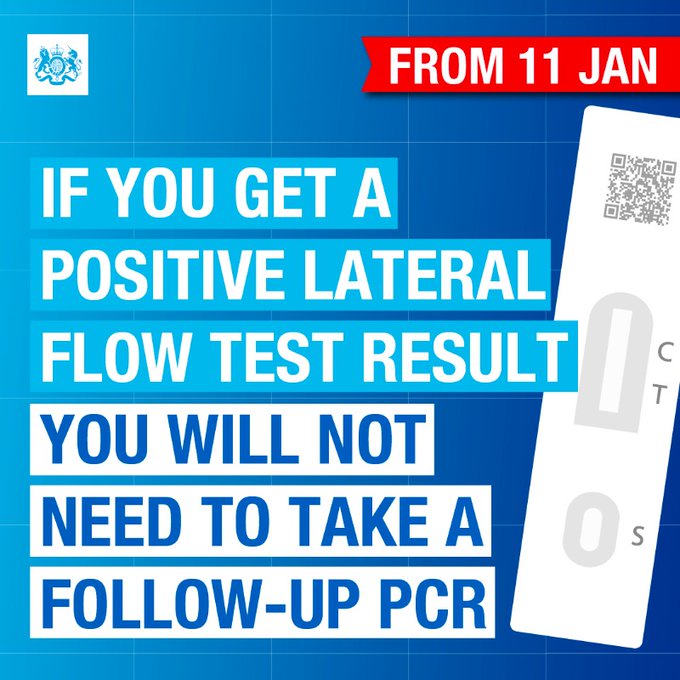 From 11th January, if you get a postive result from a lateral flow test, you will not need to take a PCR test to confirm the result.
You should self-isolate immediately.
You should isolate for at least 7 days. Take further lateral flow tests on day 6 and 7 and if they are negative you can stop isolating. If the tests are still positive at this stage, continue to isolate either for 10 days or until you get a negative result 2 days in a row.
If you have symptoms you should still get a PCR test – either online at https://www.gov.uk/get-coronavirus-test or by calling 119.
Lateral Flow Tests – these tests are to be used if you do not have symptoms and the advice is test regularly or when you are likely to be coming into contact with other people.
You should also take lateral flow tests if you have been in contact with someone who has covid – the advice in this situation is to test daily for 7 days.
There are a number of different lateral flow tests available so always read the instructions as they vary, videos showing how to do the tests can be found here: https://www.gov.uk/guidance/covid-19-self-test-help?utm_medium=email&utm_campaign=govuk-notifications&utm_source=3390fc32-d628-450e-a579-661ce078d95e&utm_content=daily#videos-how-to-do-a-rapid-test
You can get lateral flow tests from https://www.nhs.uk/conditions/coronavirus-covid-19/testing/regular-rapid-coronavirus-tests-if-you-do-not-have-symptoms or call 119. They can be ordered for delivery or you can get a code to collect from a pharmacy. Note there has been high demand for tests recently and so there may not be availability when you first try but more do become availble at different points in each day so keep checking.
Changes are also being made for anyone travelling into the UK. From 4am Friday, fully vaccinated adults & under 18s don't need to take a pre-departure test before entering England. From 4am Sunday, fully vaccinated adults & over 5s must take a post-arrival lateral flow test. A PCR is needed if they test positive.
If you are travelling out of the UK you will need to check the travel rules for the country you plan to visit.
Full details for all the latest advice on https://www.gov.uk/coronavirus