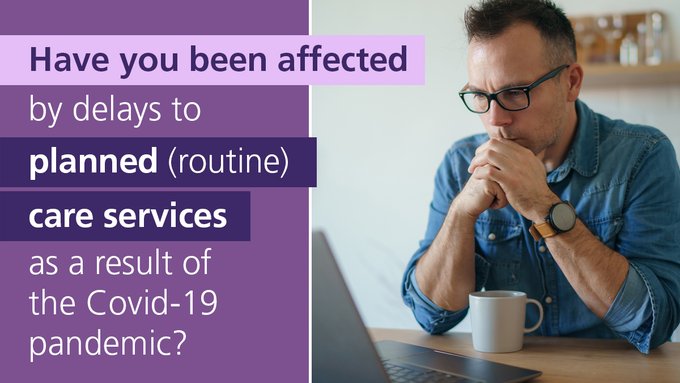 Planned care is also known as 'routine' or 'elective' care. It is treatment that people decide to have to help manage a health problem, rather than emergency treatment.
As we cautiously progress with the move out of lockdown, planned care services that were temporarily stopped are gradually being brought back in the safest possible way for patients and staff.  The Planned Care Alliance is finalising a strategy for how to work together as a healthcare system to address the increased waiting list.
As part of this West Yorkshire & Harrogate Health Care Partnership would like people who have been affected by delays to planned care to join a new Planned Care Citizen's panel.  This virtual Panel will be in place for twelve weeks from 21 June to 10 September 2021. They are looking for panel members who are currently waiting for a planned care procedure, or who have a close connection with an adult or child affected by the delays to planned care services as a result of the Covid-19 pandemic.e
The hope for the panel is that it will represent people from across West Yorkshire and Harrogate, of all age groups, ethnicities, genders and with experience of different health conditions.
More information and details of how to express interest in joining the panel can be found at https://www.wyhpartnership.co.uk/our-priorities/improving-planned-care/planned-care-citizens-panel.  The deadline to apply is 13th June.
If you'd like to talk to someone about the citizens' panel, you can call: 01924 317659 during office hours (Monday to Friday 9am to 5pm).