The Covid 'Plan B' rules are coming to an an end, this means that from today:
You will no longer be required by law to wear a face mask in indoor public places or on public transport. However the government and health services do recommend that you choose to wear one and venues or transport providers may choose to require you wear one.
Covid Passes will no longer have to be shown by law at venues or events – some places/events may choose to ask for them.
Covid is still very prevalent and you are strongly advised to continue to be careful and take measures to protect yourself and others from the virus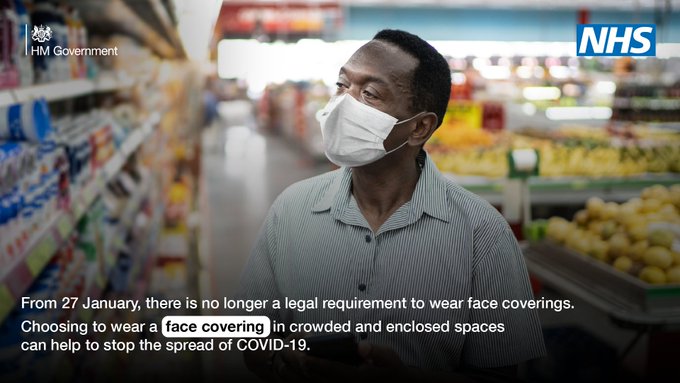 How to help stop the spread of COVID-19 – Advice from NHS website
Do
get vaccinated against COVID-19
meet people outside if possible
open doors and windows to let in fresh air if meeting people inside
limit the number of people you meet and avoid crowded places
wear a face covering in shops, on public transport and when it's hard to stay away from other people (particularly indoors or in crowded places)
wash your hands with soap and water or use hand sanitiser regularly throughout the day
Don't
do not touch your eyes, nose or mouth if your hands are not clean
If you do test positive for Covid it is still mandatory to isolate current rules on isolation are here: https://www.nhs.uk/conditions/coronavirus-covid-19/self-isolation-and-treatment/how-long-to-self-isolate/. This is likely to be reviewed again between now and March