Saturday 4 July, the day before the NHS's birthday, will be a moment of remembrance and reflection for those we have lost during the pandemic. This is a chance for the nation to come together and pay our respects. It is being led by the Together Coalition and they are asking people to place a light in their window or on their doorstep.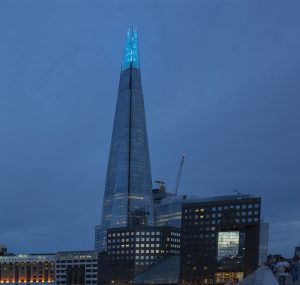 As part of this collective memorial, and as a mark of respect and tribute to NHS staff, key workers and everyone who has played their part during the pandemic, iconic landmarks including the London Eye, Royal Albert Hall, Blackpool Tower and Wembley Arch will be illuminated in blue.
It is expected that sports stadiums, bridges, castles, monuments, conference venues and landmarks will join in lighting up our skylines and cities on the evening of 4 July.
Thank you to the #MakeitBlue Collective who are supporting this as part of their #LightItBlue campaign. The campaign was created by the events and entertainment industry to show a united display of gratitude for health and key workers.
Have a look at this list of the buildings that will be lit up.  There may be others who are not on the list
People are also encouraged  to take photos and share them via social media using the hashtags #LightItBlue and #ThankYouTogether.